Kataklysm - Serenity in Fire
• album review •
Killer guitar riffs, chaotic drums-blast-beats, awesome vocal work, are the ingredients for a great melodic-death metal album with blackish influences. If you like the technique, the loud sound, the high-speed drums, and the Death Metal in general, you need to listen to this album.

BY JAMES DELANEY
MARCH 11, 2022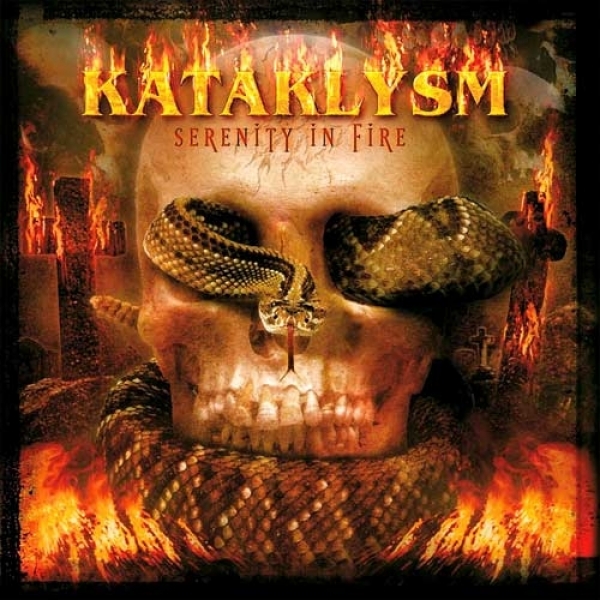 Rating: 8.5 / 10
Release Date: March 09, 2004
01. The Ambassador of Pain 02:33
02. The Resurrected 03:26
03. As I Slither 02:57
04. For All Our Sins 06:14
05. The Night They Returned 03:53
06. Serenity in Fire 04:38
07. Blood on the Swans 02:44
08. 10 Seconds from the End 02:46
09. The Tragedy I Preach 04:43
10. Under the Bleeding Sun 04:32
If you want grim-sounding, self-admittedly groove-infused death metal with blasting drums and intelligible growls, then this is the right album for you. Few bands are able to so potently blend fierce, malicious belligerence with a highly melodic sense of harmony and melody, like Kataklysm. "Serenity in Fire" is an absolute classic in extreme music, and will be treasured by many for years to come.
There's a reason this album has become so popular: a perfect balance between groove and blast beats; memorable riffs/leads (not easily forgettable as they are often very catchy or appealing to the ear) and some really good songwriting. Using clean production and top-notch instrumentation, the album is structured perfectly with enough dynamic shifts to keep things interesting and ensure that "Serenity in Fire" doesn't wear out its welcome. Kataklysm is considered one of the best death metal bands, and "Serenity in Fire" is just one of their crowning achievements.
If the "Shadows & Dust" and "Sorcery" albums were more varied in style and slower-paced, "Serenity in Fire" sees Kataklysm shifting gears toward a more focused album that includes several unique elements that are complemented by their brutal, yet melodic sound. Along with Cryptopsy, Kataklysm was largely responsible for giving Quebec a name in the death metal scene of the late '90s, and "Serenity in Fire" adds yet another notch to the belt of an already legendary band.
"Serenity in Fire" is quite ferocious, in other words. The guitars are crunchy n' full of aggression, and everyone involved plays with a sense of sheer urgency. Both riffing styles are used throughout the disc - the groovy and the fast - but it's not like Kataklysm has decided to go down to one style per album instead of combining them both.

Maurizio's vocals fluctuate from coarse to high-pitched and back again, creating a sense of dark variety. His gruff yet clear bark is distinctive and convincing, as always. Some lyrics, like those in "As I Slither" are pedestrian and not terribly poetic, but others are philosophical and steeped in ancient lore.
Martin Maurais's drumming is driving and powerful, complementing the melody of the song. His ability to time his bass drum with the guitar riffs adds a unique, epic feeling to the album.
The standout of the album can be found in its guitar work. Jean-François Dagenais excels at creating memorable riffs that'll have listeners uncontrollably nodding along. The guitar work done by J-F is stellar. The album features smashing rhythms, a tight use of the fretboard, and smooth transitions to create an overall pleasant listening experience. As expected from such a structured guitarist, the album features little to no repetition, something that really separates real guitarists from those who simply play through scales (which is a cheap trick used by those who don't have the interest to go further than it).
"Serenity in Fire" is Kataklysm's 7th full-length album, featuring guest vocals by Hypocrisy's Peter Tägtgren on "For All Our Sins". The album was recorded in November 2003 at Victor Studio in Montreal, Québec, Canada. Album cover & artwork created by Thomas Ewerhard. The executive producer was Markus Staiger (Gorefest, Master, Dismember, Pungent Stench, Brutality, and many more).
Featuring groovy song structures, this album combines the hyperblasting moments of Kataklysm's modern and classic sound. "Serenity in Fire" is an excellent album for most death metal listeners, as it offers a good mixture of aggressive and progressive elements. From start to finish, "Serenity in Fire" is a musical tour de force that keeps the listener interested throughout the entire album.