Sirenia - 1977
• album review •
From cold solitude to sonic brilliance: SIRENIA's '1977' unveils emotive evolution. Embrace the retro '80s vibes in an intricate blend of atmosphere and complexity.

BY JAMES DELANEY
JUNE 03, 2023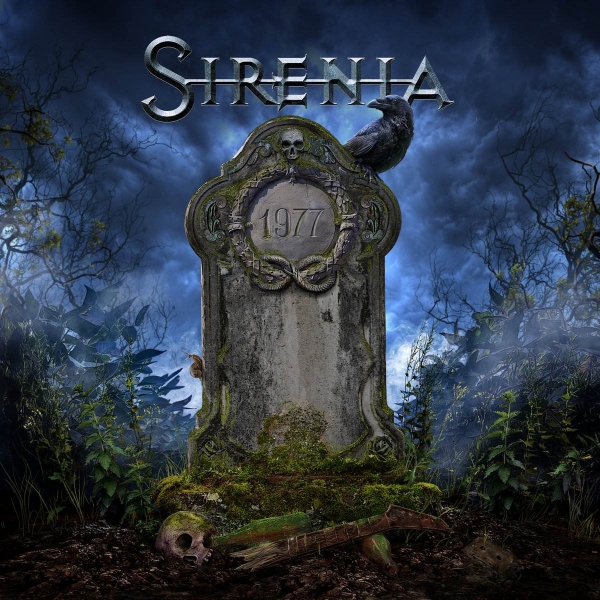 Rating: 7.5 / 10
Release Date: May 26, 2023
01. Deadlight 04:54
02. Wintry Heart 04:03
03. Nomadic 04:27
04. The Setting Darkness 04:46
05. A Thousand Scars 05:55
06. Fading to the Deepest Black 03:35
07. Oceans Away 05:02
08. Dopamine 04:30
09. Delirium 04:03
10. Timeless Desolation 03:36
11. Twist in My Sobriety (Tanita Tikaram cover) 04:09
SIRENIA is embarking on an intriguing musical journey that has the potential to attract or lose fans, depending on their expectations. Moving away from their origins in symphonic/Gothic metal, the Norwegian band has embraced a more melodic direction in their music. Their exploration of symphonic synth-pop began with the release of "Riddles, Ruins & Revelations" and is set to continue in their newest studio album, "1977", scheduled for release on May 26th, 2023, via Napalm Records.
"1977" takes a more streamlined approach than the bold and audacious nature of "Riddles, Ruins & Revelations" in terms of its musicality. The album channels a nostalgic '80s vibe, dialing back on the prominent use of synthesizers and electronica. The success of capturing this retro essence heavily relies on the specific elements and sounds from that era utilized in the album's sound design, which can either lead to triumph or disappointment. In my perspective, SIRENIA finds itself positioned in the middle ground, leaning slightly towards victory. The album's initial release, a beautiful cover of Tanita Tikaram's "Twist in My Sobriety," is presented as a bonus track. It is a fitting preview of the album's somber and melancholic musical landscape. Overall, "1977" exudes a moody yet restrained and grounded atmosphere, diverging from the band's standard inclusion of choirs and symphonic elements. It appears as a minimalist masterpiece, emphasizing creating an immersive ambiance above all else.
The second single, also the first song on the album, "Deadlight," has a straightforward, medium tempo and creates an atmospheric vibe. Vocalist Emmanuelle Zoldan takes a distinct approach, emphasizing her mid and lower range, adding a touch of darkness and emotional depth to the heartfelt lyrics. The song's combination of piano, strings, guitars, and drums beautifully intertwines, showcasing the band's musical prowess. "Deadlight" sets a dramatic tone as the album's opening track, connecting you with the pain and turmoil of a failed relationship. Evidently, this particular song resonates deeply with you, and its poignant portrayal of emotions strikes a chord.
The next song, Wintry Heart", presents a combination of strings, powerful guitars, and intermittent piano riffs that creates a captivating melody, and the guitar solo injects an extra burst of energy into the song. Following that, we have the dark and heavy track called "Nomadic", which ramps up the intensity with relentless drums, intense guitar riffs, symphonic/electronic elements, and a catchy chorus that will surely please the crowd in a live performance.
One of the album's most beautiful choruses can be found on "The Setting Darkness," which also has a layer of synth that evokes the gloomy atmosphere of the 1980s. To surpass mere filler, "A Thousand Scars" weaves swinging rhythms, orchestral themes, and powerful guitar riffs together. However, one cannot find the operatic section in the bridge distracting. Yet, amidst the contrast emerges a radiant pinnacle of the album - "Fading to the Deepest Black." Here, melody, rhythm, passion, and atmosphere unite harmoniously as Zoldan's voice soars above the resounding blast beats, eventually yielding a tranquil interlude, where Morten Veland graces us with a vocal interlude. Transcending its prescribed role as an obligatory album ballad, "Oceans Away" is transformed into a splendid musical masterpiece, thanks to Zoldan's heartfelt performance, the ascent of stirring strings, and the gloomy depths that resonate within.
As we approach the album's grand finale, we are treated to some of its most exquisite moments. While "Dopamine" exudes a funky and potent energy akin to "Fading to the Deepest Black," it embraces a more upbeat atmosphere with its robust musicality and intermittent piano melodies. A very delightful surprise is the song "Delirium." Amidst Veland's powerful screams, Zoldan's enchanting operatic vocals, minimalist piano motifs, and gripping guitar riffs, a full-fledged symphonic metal masterpiece emerges unexpectedly, elevating the album's sonic identity. "Timeless Desolation" is closing the album, and it also shines brilliantly, with Zoldan's vocals soaring above a resonating bassline and melodic guitars. This song has a captivating symphonic foundation, an alluring ambiance, and a lush sonic landscape enthralling the senses.
Overall, "1977" it's an album that builds from its simple beginnings to something much more complex and exciting as it continues. The retro-'80s atmosphere that Morten Veland was going for is unexpectedly effective, showing off a novel side of SIRENIA and the musicians' adaptability to various musical styles. As for how many people will appreciate this novel auditory environment, only time will tell.